You are currently browsing the archive for the maurizio pisati category.
zone +
pacta =
pactaSOUNDzone
where the music is the leading actor on stage
See pactaSOUNDzone on FBook & YouTube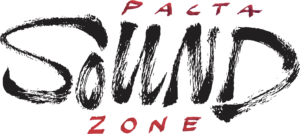 ---
excerpts from mp's music for theatre – also at: Theatre & Video Playlist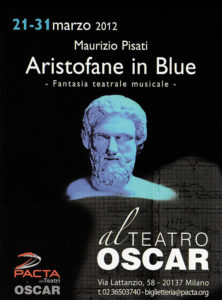 ARISTOFANE IN BLUE – audio excerpt 01 & 02: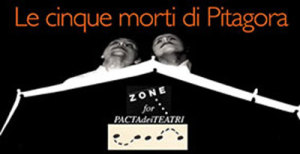 LE CINQUE MORTI DI PITAGORA 
for R.Mini, "L'irrazionale leggerezza dei numeri"_Danza Dei Cavalli: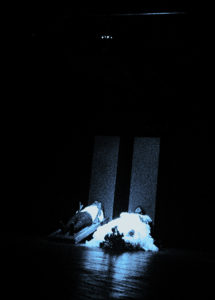 NON BREAKING SPACE – for L. Pirandello "Uno nessuno centomila"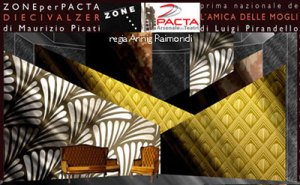 DIECI VALZER
for L. Pirandello, "L'amica delle mogli"_Valzer della Gomma: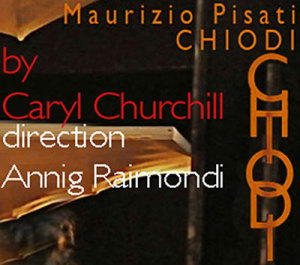 CHIODI – for C. Churchill, "Sette Bambine Ebree":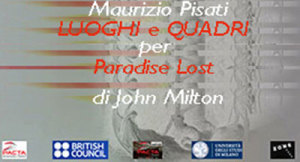 LUOGHI e QUADRI – for J. Milton, "Paradise Lost":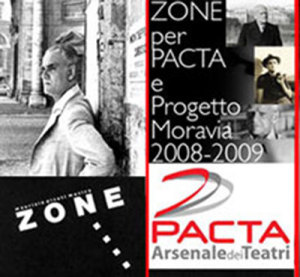 SUITE DELLA TORRE
for A. Moravia,"Beatrice Cenci"_ Lasciatemi:
SUITE DELLA TORRE_Preghiera: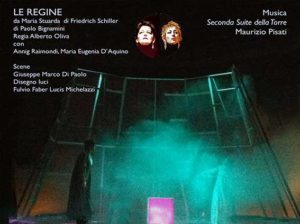 SECONDA SUITE DELLA TORRE 
for Le due Regine – Maria Stuarda by F. Schiller, A. Oliva, P. Bignamini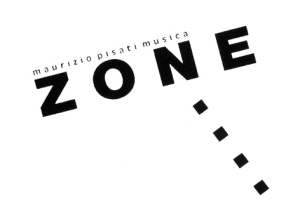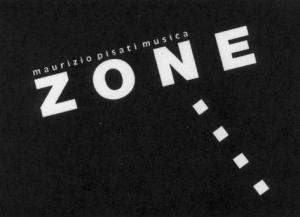 Instrumental music,
electronics,
video,
dance,
theatre.
Take a look at:
INSTRUMENTAL audiovideo playlist.
TRASCRIVERE o TRADURRe? – transcription or translation?
Talvolta è solo questione di intendersi sui termini: trascrizione in musica e traduzione letteraria sono pratiche storicamente e tecnicamente distinte, ma preferisco pensare alle mie trascrizione come a "traduzioni".
Non solo corrette trasposizioni di note ma soprattutto trasferimento del pensiero compositivo da uno strumento all'altro, con le dovute assunzioni di responsabilità per ciò che verrà omesso o aggiunto.
Quasi un lavoro di immaginazione filologica che pone me stesso, compositore vivente, negli immaginari panni di un altro e precedente compositore: cerco un pensiero parallelo che assuma quello originale come guida, sfruttando i suggerimenti che vengono dal nuovo organico per giungere ad un'altra visione, se non anche invenzione.
Alla fine, cioè, vorrei che l'oggetto tradotto fosse a sua volta un "originale", pensato per nuove pagine, nuova lingua e nuovi strumenti. 

Sometimes it is just a matter of agree to terms: transcription into music and literary translation are two distinct practices, but I see  my transcription as "translations".
I am not just talking about a correct transpositions of pitches but, mainly, about transfer of the compositional thinking from one instrument to another, with the due responsibility for what will be changed, omitted as well as added.
It is almost a work of philological imagination: a living composer who places himself in the imaginary role of another (ancient) composer. So I look for a parallel thought that assumes the original text as a guide, exploiting the suggestions coming from the new instrument that I am translating for, to reach a further vision, or, why not, an invention.
In the end, I mean, I would like the translated object to be as an "original" conceived for those new pages, for the new language or for the new instruments.
Click on each picture for score preview. See audiovideo, buy
• Orders of published scores will be forwarded to the Publishing House 
Set of 7 Sonatas by D. Scarlatti translated for Guitar. ©mp
audiovideo Sonata K141, excerpt from a movie by F. Leprino, Guit. E. Càsoli
Still in draft manuscript, to be completed on 20…..
audio Sonata K141, live W. Zanetti:
after In Nomine Domini by W. Byrd ©mp
audiovideo (live, first performance)
audio mp simul./live BlumineEnsemble, Cond. C. Centofante:
translation of the original Tarkus by Emerson Lake & Palmer ©mp
see also CD-DVD page
audio: excerpt of Eruption II 
Piano A.Kuroda; Perc. M. BenOmar, QuartettoPrometeo, Guit. E. Càsoli, Cond. Y. Sugiyama:
translation for Guitar from the original Addio a Trachis for Harp
©Ricordi-Universal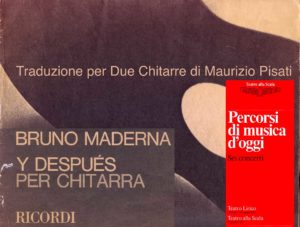 translation for two classical Guitars from the original for 10 strings Guitar
@ Ricordi-Universal
ANY INSTRUMENT or ENSEMBLE or IMPRO – Click on each picture for score preview.
See audiovideo, buy
• Orders of published scores will be forwarded to the Publishing House

Tenor Sax and AudiovideoTrack
or any instrument or ensemble and AudiovideoTrack
see also 1 instrument page
audiovideo (ElectricGuitar version by Y. Gaku)
audiovideo 2 (link at tenorSax version of Var är du?, excerpt in live RödKonsert)
Solo Guitar or Guitar and Audiotrack
or any instrument or ensemble and Audiotrack
see also 1 instrument page andCD-DVD page
audiovideo: Mix A. Tallini, M. Andersson, S. Sorrentino
Electric Guitar, Sax and AudiovideoTrack
or any instrument or ensemble and AudiovideoTrack
audio excerpt: El.Guit mp, TenorSax T. O'Dwyer:
BassClarinet, Recorder, Sax, Guitar, Piano, DoubleBass, Percussion, Voice and AudiovideoTrack
or any instrument or ensemble and AudiovideoTrack ©Ricordi-Universal
see also ensemble page
audiovideo 1 (Dawn excerpt)
audiovideo 2 (AVtracks playlist and some live excerpts from Theatre of Dawn)
Electric MIDI Guitar, TenorSax, Trombone, Percussion, AudiovideoTrack
see also ensemble page
Recorders, ArchLute, SaxQuartet, Trombone, Percussion, AudiovideoTrack
or: Recorders, ArchLute, Percussion, 5 free instruments, AudiovideoTrack
see also ensemble page
TomTom, Metal, Wood, Audiotrack
or any instrument or ensemble and Audiotrack
see also 1 instrument (Percussion) page
audiovideo ElectricGuitar version
2 free Solos, free Ensemble, AudiovideoTrack
see also ensemble page
Guitar and free Ensemble
ORCHESTRA – Click on each picture for score preview. See audiovideo, buy
• Orders of published scores will be forwarded to the Publishing House

String Orchestra, Solo Cello and Percussion, Two Dancers, Audiotracks ©mp
see also Chamber Operas page
audio excerpt: Cello M. Brunello, Percussion M. Ben Omar, Orchestra d'Archi Italiana:
DoubleBass, Percussion and Wind Orchestra
©Ricordi-Universal
Orchestra, 2 Percussion ©mp
Guitar, String Orchestra ©Ricordi-Universal
Percussion, String Orchestra ©mp
audio excerpt: M. Ben Omar Percussion, Orchestra Cantelli, Milano:
Percussion, String Orchestra (short version of Sì. Cos'è?) ©mp
Guitar, Percussion, Reciter, String Orchestra ©mp
Orchestra ©Ricordi-Universal
ENSEMBLE – Piccolo, Flutes, BassClarinet, Recorders, Trombone, Sax, Guitar, El.Guitar, ArchLute,
Percussion, Piano, Violin, Alto, Cello, DoubleBass, Voice, PhotocopyMachine, Dancers
Click on each picture for score preview. See audiovideo, buy
• Orders of published scores will be forwarded to the Publishing House

Piano, String Quartet, Guitar, Percussion
see and listen also CD-DVD page
audio excerpt from ZONEpopTRAIN: PopUpFugue:
BassClarinet, Recorder, Sax, Guitar, Piano, DoubleBass, Percussion, Voice and AVTrack – ©Ricordi-Universal
audiovideo (AVtracks playlist and some live excerpts)
BassClarinet, Recorder, Sax, Guitar, Piano, DoubleBass, Percussion, Voice and AVTrack – ©Ricordi-Universal
see also Any instrument or Ensemble-impro page
audiovideo 1 (Dawn excerpt)
audiovideo 2 (AVtracks playlist and some live excerpts from Theatre of Dawn)
BassClarinet, Recorder, Sax, Guitar, Piano, DoubleBass, Percussion, Voice and AudiovideoTrack
©Ricordi-Universal
Photocopy machine, Flute, 2 Voices, 2 Dancers, Guitar, ElectricGuitar, Alto, Percussion, AudiovideoTrack
see and listen also CD-DVD page
Voice, Flute, Marimba, TomTom, ToyPiano
Voice, Flute, Guitar, Percussion, Piano, Cello, DoubleBass
audio excerpt: live by EnsembleFiarì:
Voice, Actress, Recorders, Electric-MIDI Guitar, Percussion, AudiovideoTrack
©Ricordi-Universal
Soprano, English Horn, BassClarinet, TenorSax, Trombone, Guitar, Percussion, Alto, Cello, DoubleBass
©Ricordi-Universal
see also Chamber Operas page
Electric MIDI Guitar, TenorSax, Trombone, Percussion, AudiovideoTrack
see also Any Instrument or Ensemble, Impro page
Piano, Violin, Alto, Cello, Percussion
2 Flutes, Percussion, Violin, Alto, Cello ©Ricordi-Universal
Recorders, ArchLute, SaxQuartet, Trombone, Percussion, AudiovideoTrack
or: Recorders, ArchLute, Percussion, 5 free instruments, AudiovideoTrack
see also Any instrument or Ensemble-impro page
2 free Solos, free Ensemble, AudiovideoTrack
see also Any instrument or Ensemble-impro page
audiovideo (AVtrack for the live performance)
Piccolo, English Horn, BassClarinet, Percussion, Piano, Violin, Alto, Cello
see also Transcriptions page
audiovideo (live, first performance)
4 INSTRUMENT – Recorders, Clarinet and BassClarinet, Didjeridoo, Sax, Percussion, Piano, Disklavier, Violin, Alto, Cello, Voice
Click on each picture for score preview. See audiovideo, buy
• Orders of published scores will be forwarded to the Publishing House

2 Percussion, Piano, Keyboard sampler, Live Electronics ©Ricordi-Universal
see also chamber operas (Theatre of Dawn) page 
audiovideo 1 (link at the whole playlist of Theatre of Dawn)
audiovideo 2 (link at 7 excerpt)
2 Percussion, Tenor Recorder, DBass Recorder, Live Electronics ©mp
audio excerpt: BiennaleBern2005, Percussion M. Graber, C. Steiger; Recorders C. Eckert, A. Politano; Electronics B. Piccand, M. Pennese, mp:
Clarinet B, Cello, Piano, Percussion, Audiotrack ©mp
audio excerpt: IcarusEnsemble, live2001:
Sax Quartet ©Ricordi-Universal
audiovideo (link at SaxStories excerpt in live RödKonsert)
audio excerpt (Song and Tango): live StockholmSaxophoneQuartet:
Voice, Didjeridoo, Piano, Disklavier, 2 Audiotracks ©mp
Violin, Cello, BassClarinet, Percussion ©TeatroLaFenice
audio simul mp:
Tenor and DoubleBass Recorders, 2 Percussion ©Ricordi-Universal
audio excerpt: live Zürich 1997, Recorders K. Boeke, A. Politano; Percussion M. Ben Omar, A. Dulbecco:
BassClarinet, StringTrio ©Ricordi-Universal
see and listen also CD-DVD page
3 INSTRUMENT – Flutes, Recorders, Clarinet, Trumpet, Sax, Guitar, El.Guitar,
Percussion, ChurchBells, Accordeon, Piano, Violin, Alto, Cello, DoubleBass, Voice
Click on each picture for score preview. See audiovideo, buy
• Orders of published scores will be forwarded to the Publishing House

Flute, Tenor Recorder, Harp ©Ricordi-Universal-BMG
see and listen also CD-DVD page
audio excerpt: M. Zurria Flute, A. Politano Recorder, C. Antonelli Harp:
Violin (or ElectricViolin), Guitar, Accordeon, AudioTrack ©mp
Electric Guitar, Percussion, Voice, AudiovideoTrack ©mp
Three or infinite Guitars ©mp
audio: mp-simul.:
Voice, Flute, Guitar ©mp
Lyrics from "The Waste Land" by T. S. Eliot
audio excerpt: Voice D. Rama, Flute G. Biocotino, Guitar E. Càsoli:
Flute, TenorSax, Percussion, Audiovideo ©Ricordi-Universal
audio: AudioTrack 01:
Violin, Guitar, Piano, Audiovideo ©mp
audiovideo (playlist of the whole 6 AVtracks)
audio: AudioTrack 04:
Flute, Violin, Piano ©Ricordi-Universal
Recorder, Guitar, Doublebass ©mp
from project FOLIA, ZONE&TipToeCompany
Audiovideo (link at the premiere of FOLIA, at the point where this piece is performed)
audio: live concert in AlbaNova Festival.Alden Biese 2014, Recorder R. Van Killegem, Guitar J. Kestelejn, DoubleBass P. Lenaerts:
Voice, Guitar, Percussion ©mp
Actor or Vocalist, Trumpet, Percussion, Audiotrack ©mp
audio: QUESTIO de aqua et terra_excerpt, Voice Thor Vilhjalmsson:
Voice and Piano ©mp
Violin Alto, Cello ©Ricordi-Universal
ChurchBells, Cello, Piano, Audiotracks, LiveElectronics ©mp