Milano 2015-20… pactaSOUNDzone is a research path and joint between ZONE and company PACTA dei TEATRI. One of our target was bring music on stage as a parallel sound-acting, and with the 2013 production of Aristophanes in Blue, where the acting itself was born from the score, the path naturally landed to PACTAsoundZONE.
• 2015-16: two test nights with sculptures, film and music.
• 2017: starting of the first real series with interventions by Alejandro Jaraj&VLPsound, Maddalena Novati-NoMus, Piero Chianura-BigBox, M. Pisati e F. Michelazzi with Flash&Bip.
• 2018: Andrea Marinelli-SecretShow; Trio Tuja Ravizza Masciocchi-Voltaire e il re flautista; ZanettiZanotti+FLASHetBIP-TWO+TWO; CignoliTremoladaCarlotto-IRIDESCENCE. We also started a seminar activity, hosting Collettivo21, Conservatorio di Piacenza and CARcentro attività di ricerca Conservatorio di Milano, to plan their presence on stage in 2019. pactaSOUNDzone is on: FBook
2016 FOLIA – ConcertgebouwBrugge, MAfestival.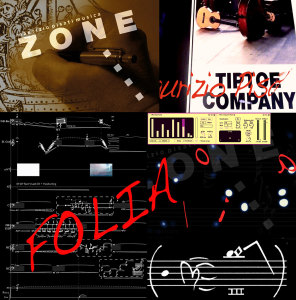 FOLIA started on 2013 with TipToeCompany, Bruxelles, focusing the subtle border between well known social folias and other sides of craziness. Music of different genres, elaborating and "hacking" Vivaldi's Follia as well as Pisati, Dowland, Scarlatti, or ancient and modern instruments, also thinking over the current tragedies of immigration and modern Narrenschiff. Partners: MAfestival-Brugge, ChampdAction-Antwerpen, TipToeCompany and ZONE, playing Recorders, Guitar, El. Guitar, DoubleBass and Electric Bass, Percussion, Cello, Harpsichord, Electronics, Audiovideo.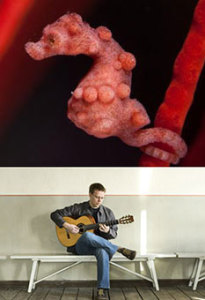 2016, Helsinki – DENISE
–Denise, Silver and Firefly–
A new piece for solo Guitar asked by Petri Kumela,
Guitarist and Professor at Metropolia University, Helsinki,
for his project "Little Creatures".
A short story involving three very little creatures:
a Fire Fly, a SilverFish (or Sugar worm)
and Denise, a tiny and very active pygmy Hippocampus.
The composition was finished on december 2015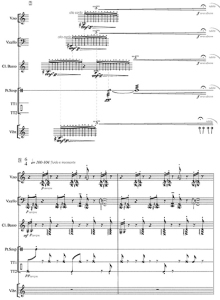 2015, Brescia – Relogio da vento
After Relogio da Aqua composed for ExNovoEnsemble at Sale Apollinee-Teatro La Fenice in Venice, the ensemble SentieriSelvaggi asked for a new "Relogio" for a wider ensemble. Premiere on dec 9th 2015 at Teatro Grande, Brescia (I)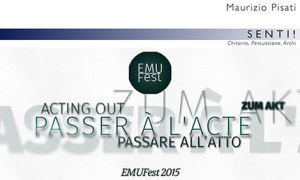 2015, Roma – SENTI!
Last piece of a triptic on a novel by A. Strindberg. Guitar, Percussion, AudioTrack, StringOrchestra. Premiere oct 9th 2015 in Rome, EMUfest, Sala Accademica S. Cecilia. A. Tallini Guitar, G. Ruggeri Percussion, T. Battista Direction, Voice on AT Annig Raimondi, Editing and El.Guitar on AT M. Pisati. Orchestra EuropaMusica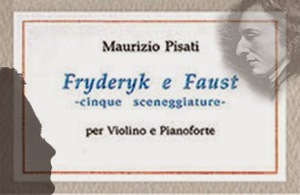 March 21st 2015, Paris, Hotel de Soubise – Archive Nationales: EU premiere of FRYDERYK and Faust, kind of musical scripts for five short movies on the imaginary encounter between Chopin and Faust. Lèo Marillier Violin, Alexandre Lory Piano.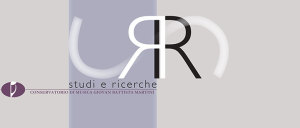 February 6th 2015 – CSR & Onniverso
In 2014 I was appointed to develope a Music Research structure at Bologna's Conservatory: CSR, CentroStudi e Ricerche. The department starts its official activity in 2015 hosting the meeting ONNIVERSO, collaborating with RAMI, italian association for artistic and musical research (see also "teaching" page)

Set of 7 Sonatas by D. Scarlatti "translated" for Guitar.
Still in draft manuscript, to be completed for edition.
The final work will be titled THE SCARLET BOOK,
including the Seven Sonatas, solo Guitar
as well as Incrocio Scarlatto, one Guitar and two guitarists,
and Parafrasi Scarlatta, Guitar and DoubleBass